HUGE SALE GOING ON NOW!!! WE WILL BEAT OR MATCH ANY PRICE ON A COMPARABLE PLAYSET, BASKETBALL GOAL OR TRAMPOLINE!
Other models and in store specials may be available at the showroom.
To visit us, see map
USA Play
Business Hours:
Tue – Wed: 11:00 am – 5:30 pm
Thu: 11:00 am – 4:00 pm
Fri: 10:00 am – 5:00 pm
Sat: 10:00 am – 3:00 pm
Free Shipping in the Contiguous US
USAPlay is the authorized factory direct seller for AlleyOop trampolines.  Our strong relationship with the company assures that you will get the best price anywhere.  Our local ownership assures that you will get the best service from order to installation as well.  These products are simply the strongest and safest trampolines on the market.
Ours vs. Theirs
What Makes Our Trampolines The Best:
AlleyOop trampolines
Trampolines
 DoubleBounce™ or Variable-, Power-, Staged-, & SoftBounce™ Patented Trampoline Safety Systems  (Engineered to improve shock absorption of the jumping surface & to smooth energy transfer between the jumper and the trampoline bed)
Triple & Dual-Staged™ or Extra-Stretch™ Springs & Taller Frame Height (Safer, softer, deeper bounce = less stress on jumper so the springs absorb more energy = better return, higher bounce & improved safety for kids and adults.
Thick Trampoline Spring Pad for Safety: Our higher density closed cell foam is 1.5″ thick for AlleyOOP from edge to edge.
Green Powder Coat, Heavy Duty Trampoline Frame  (Quality Steel, heavy 14 gauge top rail for superior strength. Blends-in, looks attractive, lifetime frame warranty)
Alley Oop trampoline mats use the time-tested method of stitching straps and V-rings. Typical service life of 5 to 10 years
Alley Oop High Quality & Durability (Lower Maintenance Costs = Annual cost savings of over $100.00)
20% to 30% Better Bounce Performance with Steel Springs
Quality springs are 4 times stronger and last 5 times longer
Replacement cost for one spring is just $3.00
Our trampoline pad is separate from mat with fabric on top & bottom to protect the foam
AlleyOop Trampolines offer even more benefits: Easy to Assemble; Smooth Jumping Surface; W-shaped Legs = Stability on Uneven Ground
Unsafe Trampolines
Being Sold by Discount Retailers
No Patented Safety Improvements to Protect Jumpers & Prevent Injuries (Faster deceleration = more stress on jumpers body = higher back & joint compression = increased injuries during awkward landings, etc.)

Stiffer springs & Shorter frame = Higher Bed Tension (Harder, shallower bounce = more stress on jumper = body must compress & bend to absorb more energy = less energy goes into springs = lower return energy = lower bounce = less safety & fun)

4 Rows Mat Stitching/No UV shield to protect threads

Thin Frame/Spring Pad: Average foam thickness across pad is less than 0.65″ thick, with just 1/2″ foam over 65% of the pad surface.

Unattractive, silver-color, thin-steel frame (Cheap steal that fatigues quickly, rusts and then breaks) Note: Jumpking & Hedstrom Recall over 1 million trampolines for breaking frames (learn more)

WARNING: Some manufacturers use inexpensive grommets that puncture and tear through the mat fabric during installation. The trampoline mat will likely begin to tear apart in the first year and most likely fail within two years!

Fabric Stretch-Bands give poor performance

Flimsy Stretch-bands weaken and fatigue quickly

$150.00 to replace entire mat if just one stretch-band breaks (stretch-bands are permanently stitched to mat)

Trampoline Pad is permanently stitched to mat and has no bottom fabric to protect foam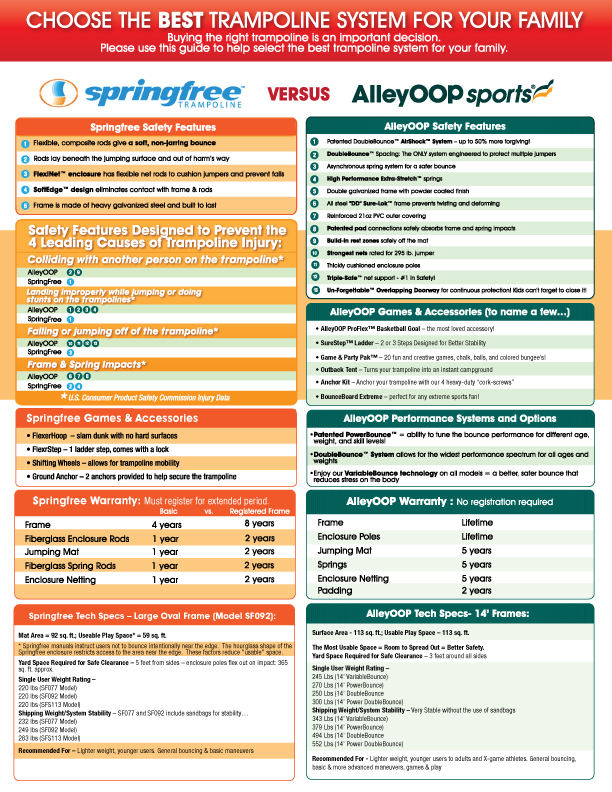 Choose From Our Family of Safe Trampolines

These are simply the strongest and safest trampolines on the market. They come with a lifetime warranty and will last much longer than the trampolines that you can purchase at a big seller. Most of those have a 1 – 5 year warranty versus the lifetime warranty on the AO brand. Trampoline warranties are just like car warranties. You know what happens when your car warranty expires. It starts falling apart. It is the same way with trampolines so buy one that will last a lifetime. This trampoline also has the exclusive net closure on the outside of the poles which allows for a greater play area.