The one solution for creativity, fun and fitness
Playground One!® playsets and swings are family-tested and inspired by kids' imaginations, customizable and engineer-designed so they are safe for generations.
Our swings and playsets are designed to last and to bring years of joy to your family. A simple and stylish solution for inactivity, boredom and alone-time, our systems can be customized to your family's needs. Set up our playsets and swings outside so your children get to explore creativity, time with friends and the benefits of the outdoors.
Who is Playground One!®
Playground One has been around for 23 years, and we've seen a lot change. One of the biggest changes we've seen has to do with safety. Safety standards have shifted, and today's parents know our pinch-free swings, double-wall slides and non-slip "Gotcha" grips and handles keep the little ones safe.
Of course, not everything has changed – most importantly, our commitment to families and customers. When we first started, we wanted to make a difference to families and bring activity, creativity and fun to families. Today, our products offer the latest in safety and design features, but we bring the same attention to detail and care for children that we have for the last 23 years.
Why Playground One!®
There's no shortage of playsets and swings out there. We get it. Trying to compare systems, prices and features quickly means information overload. It's why we at Playground One! like to keep it simple. What makes us different? Let's take a look:
We offer solid beam, 100% pacific cedar wood constructions. That's just not a promise other manufacturers can make.
Our systems are customizable, so you can pick and then add the features you want. Without browsing through thousands of catalogues, you still get the unique play experience you want for your children.
We take safety to a "mom" level. Our moms always told us to be careful, and we've taken that to heart by adding layers of safety to each Playground One! product. From multi-beam joint connections to self-locking industrial connectors, our playsets and swings can take everything any child can throw at them and still keep kids safe.
We design playsets and swings the way kids play. All our products are tested by engineers, and most importantly, approved by kids – our toughest critics. Our products are crafted to not only be sturdy enough to pass onto your great-grandchildren, but also to encourage fitness, fun, family time and creativity.
Massive Solid beam Construction
We do not use anything but 100% pacific cedar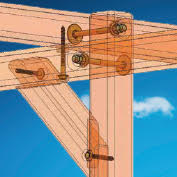 solid beams throughout every one of our play sets. 
You will not find multi-layers of smaller timbers laminated or glued together. Pacific Cedar resist warping and cracking, and is naturally resistant to pest infestations, fungus and decay, so it does not require any harmful chemical treatments.
Multi-beam joint connection
Our solid beams are inter-connected using corrosion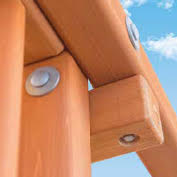 resistant, hot dipped galvanized hardware ensuring that all joints hold their structural integrity for the life of your play set. Tight joints equal less sway, enhanced stability for years of safe, fun imaginative play.
USA Play
Business Hours:
Tue – Wed: 11:00 am – 5:30 pm
Thu: 11:00 am – 4:00 pm
Fri: 10:00 am – 5:00 pm
Sat: 10:00 am – 3:00 pm
Free Shipping in the Contiguous US and $299 installation within 30 miles on Playground One Playsets!